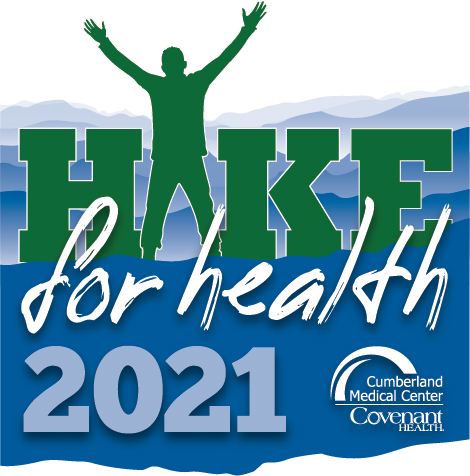 This popular series of Health Walks on Monday mornings is coming to end.  The last walk is next week,  Monday, June 28th at 10:30am.  We will meet in the Cumberland Mountain State Park behind the restaurant at the boat launch for the kayaks and canoes. (Next to the wooden bridge.)
CMC/Covenant will be providing a boxed lunch after the hike. If you would like lunch and you have not already given your name to Naiad Kuhlman please call (931) 459-7019 so they know how many lunches to provide.
Exercise is vital to your overall health. The American Heart Association recommends fitting in at least 150 minutes of heart-pumping physical activity each week. Being physically active is important to prevent heart disease and stroke, which are the nation's top causes of death. Studies also show that exercise goes a long way in helping cancer patients stay strong through treatments and ward off future cancer reoccurrence.
Hike for Health is a weekly one-mile hiking series that can help you achieve a half marathon in just 13 weeks!
From the beginner to the avid hiker, everyone is welcome to attend. Hike for Health encourages you to take steps towards a healthier you with group hiking opportunities.
When hiking, it's important to be prepared. Look to the weather forecast and dress accordingly with comfortable clothing and shoes, take water and a light snack, and wear sunscreen. One may also want to wear insect repellent.
These are "all weather" hikes. This means that the leader will always show up at the trail-head regardless of the weather forecast. If there is a consensus of the hikers at 10:30am that the weather is too bad for an enjoyable hike then it will be cancelled.
Monday Morning Health Walks: Starting Promptly at 10:30am
Date
Trail
Directions
Map
Leader
1
5-April
Woodlawn Loop, Crossville
(Groomed)
Woodlawn Road to Wyatt Court. Proceed to the end of the paved road then continue to the trailhead parking area.
Woodlawn Map
Cheryl Heckler
2
12-April
Centennial Park, Crossville
(Paved)
Industrial Blvd, then Turn into parking area nearest Dog Park.
Centennial Map
Janice Noll
3
19-April
Central Trail, Fairfield Glade
(Paved)
Fairfield Glade Wellness Complex, parking lot.(On the side away from the Community Center.)
Central Map
John & Carol Conrad
4
26-April
Obed River Park Trail, Crossville
(Paved)
Head out of Crossville on Route 70N, West Avenue, after 1.5 miles from the Kroger's Plaza, turn right into the Obed River Park. Proceed 0.25 miles to the gravel parking lot at the end of the road.
Obed Map
John & Deb Martin
5
3-May
Downtown Trail, Crossville
(Paved)
Depot Parking Area in downtown Crossville.
Downtown Map
Cheryl Heckler
6
10-May
Meditation Trail, Crossville
(Groomed)
Parking lot of the St Raphael Episcopal Church. Park behind the church close to the trailhead.
Meditation Map
Naiad Kuhlman
7
17-May
ADA Trail, CMSP Crossville
(Paved)
Park in the Park Office parking lot.
ADA Map
Connie Obohoski
8
24-May
Glastowbury Trail, Fairfield Glade
(Groomed)
From St George Drive take Manchester Road then turn left onto Lafayette Lane. Just before entering the condo complex, turn right onto Hunterwood Lane. Turn left to the boat launch and park at the trailhead.
Glastowbury Map
John & Carol Conrad
9
31-May
Woodlawn Loop, Crossville
(Groomed)
Woodlawn Road to Wyatt Court. Proceed to the end of the paved road then continue to the trailhead parking area.
Woodlawn Map
John & Deb Martin
10
7-June
Meditation Trail, Crossville
(Groomed)
Parking lot of the St Raphael Episcopal Church. Park behind the church close to the trailhead.
Meditation Map
Connie Obohoski
11
14-June
Glastowbury Trail, Fairfield Glade
(Groomed)
From St George Drive take Manchester Road then turn left onto Lafayette Lane. Just before entering the condo complex, turn right onto Hunterwood Lane. Turn left to the boat launch and park at the trailhead.
Glastowbury Map
Naiad Kuhlman
12
21-June
Centennial Park, Crossville
(Paved)
Industrial Blvd, then Turn into parking area nearest Dog Park.
Centennial Map
Cheryl Heckler
13
28-June
ADA Trail, CMSP Crossville
(Paved)
Park at the Boat Rental Parking Lot.
ADA Map
John & Deb Martin